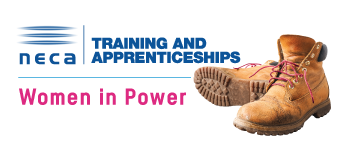 Electrical Pre-Apprenticeship Program for Women
Increasing female participation in the NSW Electrical Industry: encouraging a more diverse, inclusive and safe workplace for women.
NECA Training & Apprenticeships is holding a FREE Women-in-Power Electrical Industry Introductory Program in NSW over the 2023-24 Summer School Holidays.
The program will provide opportunities for Year 10-12 female students to develop entry level knowledge and skills for a career in the electrical or broader construction trades.
Download our information brochure here to learn more about NECA's Electrical Pre-Apprenticeship Program for Women.
Speak up for Gender Diversity in the Electrical Industry: 
The NSW Government is taking active steps to make the Construction Industry a more diverse, inclusive and safe workplace for women.   
As part of the FY22-23 Budget, the NSW Government announced an investment of $20.2 million over three years to attract more women into the Construction Industry, setting an ambitious goal of women occupying 15% of trade and non-traditional roles by 2030.
The NSW Government supports industry-driven diversity and workforce development solutions and recognises that industry needs to be at the centre of initiatives that aim to improve gender diversity in the Construction Sector.
To achieve this vision, the NSW Government has developed the Women in Construction (WIC) Strategy and the Industry Innovative Program (IIP) which is an initiative under this Strategy.
NECA, with the support of the NSW Government under the Industry Innovation Program, has engaged a suitably skilled and experienced female Project Officer to implement a suite of initiatives focused on increasing female participation and retention in the NSW Electrical Industry's trade-based operations.
Current initiatives include: 
Visiting and/or conducting webinars with NSW secondary schools; 

Facilitating female only pre-apprenticeship programs in the school holidays; 

Providing 'respectfile relationships' toolbox talks with a focus on creating safe, respectful and inclusive workplaces;

Providing advice and support to existing female tradespeople and apprentices and their employers and supervisors.